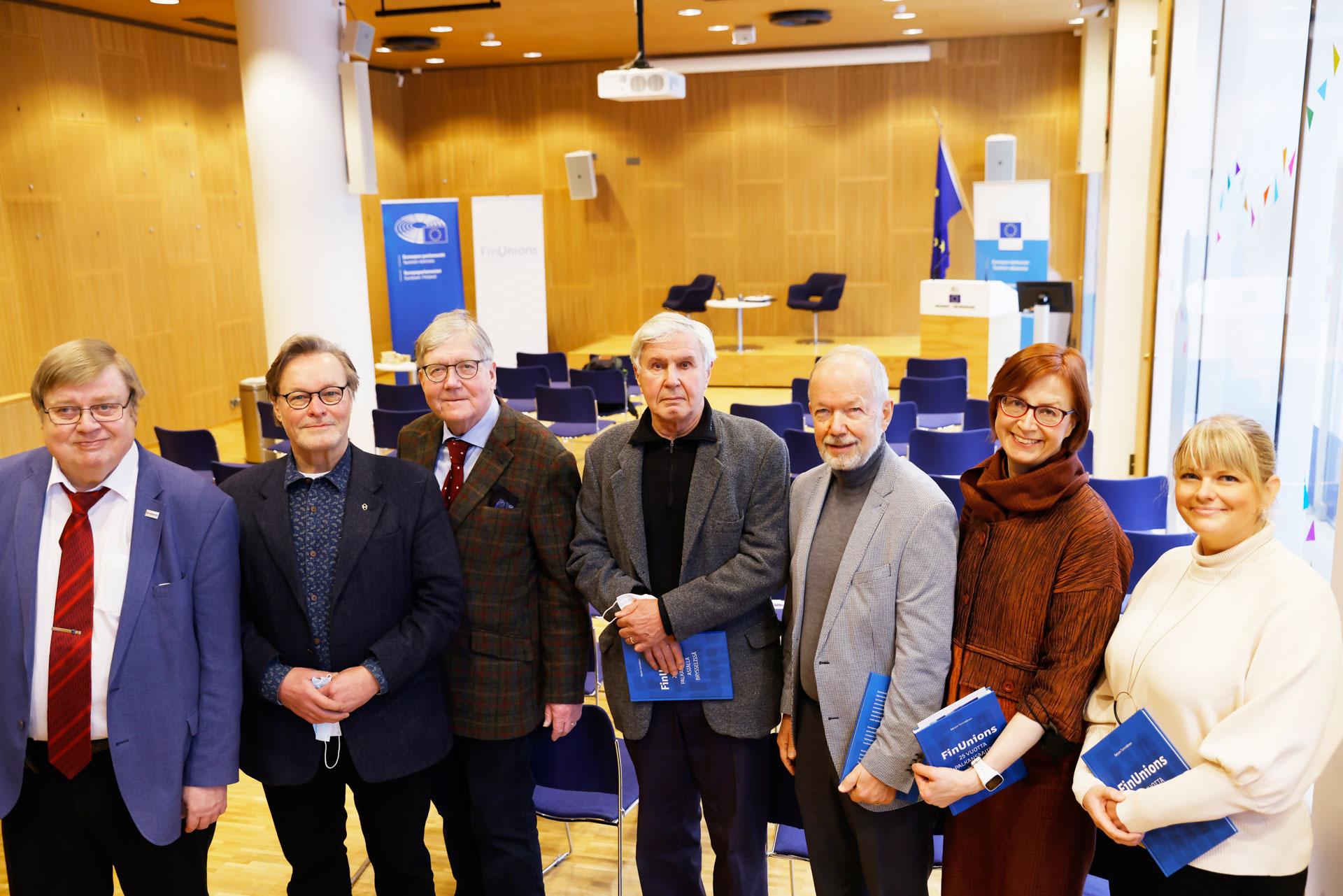 25 years in Brussels defending wage-earners
News
With the membership of the European Union in 1995, an EU representation of wage-earners was established in Brussels, which developed into the Finnish trade union movement's own antenna, information channel and base in the heart of Europe. The history of Finland's EU membership as part of the 25-year history of FinUnions is described in our history book, which was published in Helsinki on 3 December.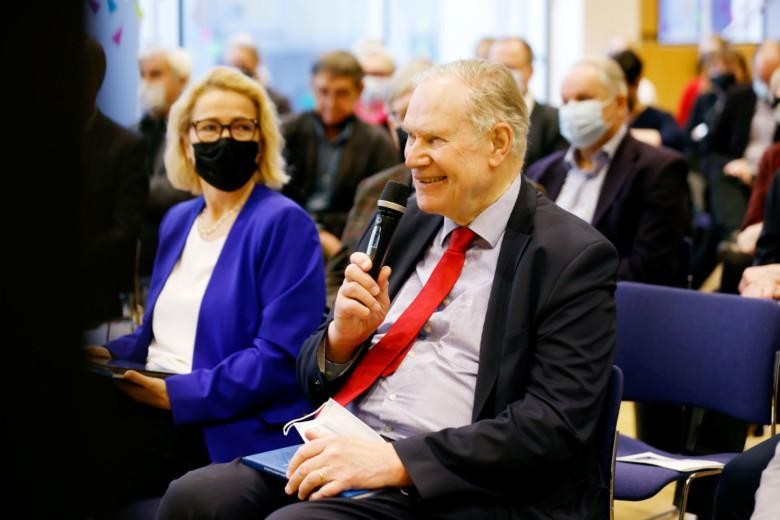 The Finnish trade union movement has played an important part in uniting Finland with Europe and securing Finland's EU membership. The Finnish central trade union organizations understood early that Finland must be part of where decisions are made.
"25 years is a long and honorable time, even a phase-rich one. At the time, it was also a very wise decision to go on the spot to find out, understand the logic of Brussels, build relationships, network and use influence in the EU institutions as well as in the European trade union movement," says Jarkko Eloranta, President of FinUnions and the Central Organization of Finnish Trade Unions SAK.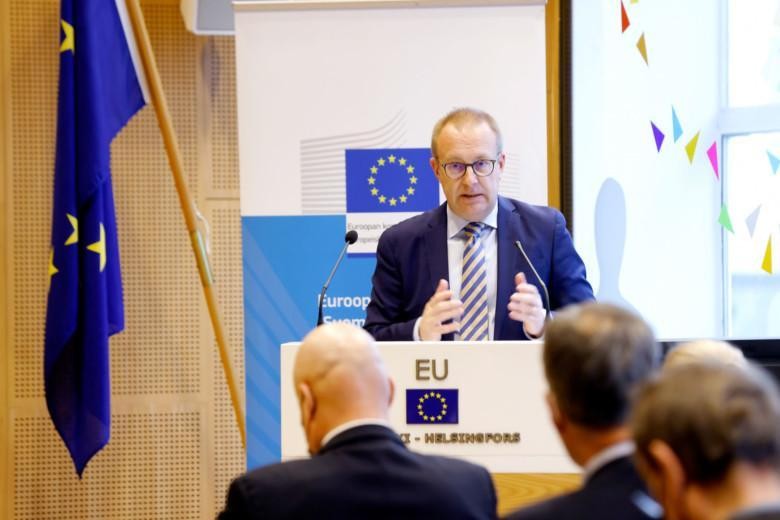 In the autumn of 1990, the Finnish central trade union organizations including SAK, TVK, Akava and STTK, set up a project called European Co-operation for Central Organizations, KEY. Its task was to collect and distribute information on European integration and the progress of the EEA negotiations between the EC and the EFTA countries.
At the end of 1994, SAK, STTK and Akava decided to set up a joint office in Brussels to monitor and inform Finland about developments concerning wage-earners. The office, named KEY-Finland, opened its doors at the beginning of February 1995. Later on in 2007, the name was changed to FinUnions.
According to Jarkko Eloranta, the Finnish trade union movement has remained pro-European all these years.
"It hasn't always been easy. Living together in a single currency union has taken its toll, and not all proposals for directives have always been applauded. Discipline policy in the aftermath of the financial crisis has also been a difficult piece. However, the attitude has been pragmatic and solution-seeking, and the decision to join itself has never been questioned," Eloranta emphasizes.
Today, FinUnions has been the voice of Finnish wage-earners in Brussels for more than 25 years.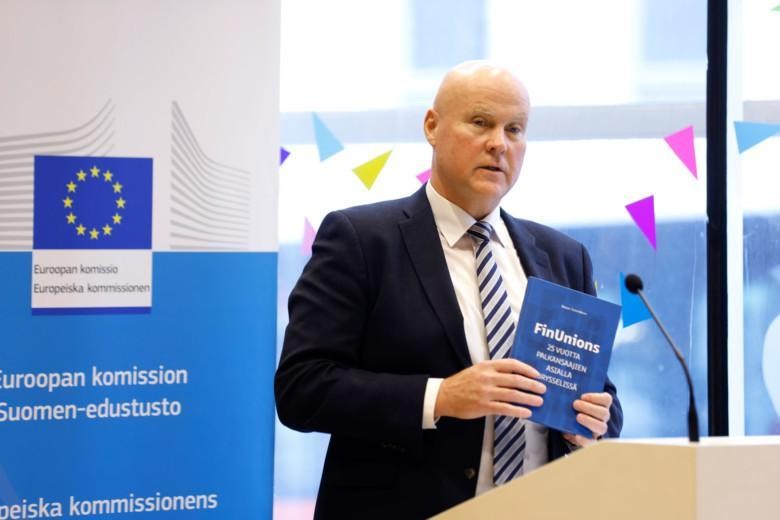 "It is important for us today to be aware of what has happened in the past years so that we can better understand the current situation. Our goal is to build an even stronger and more united Europe for the benefit of all of us Finns," says Antti Palola, Member of the Board of FinUnions and President of the Finnish Confederation of Technical Employees' Unions STTK.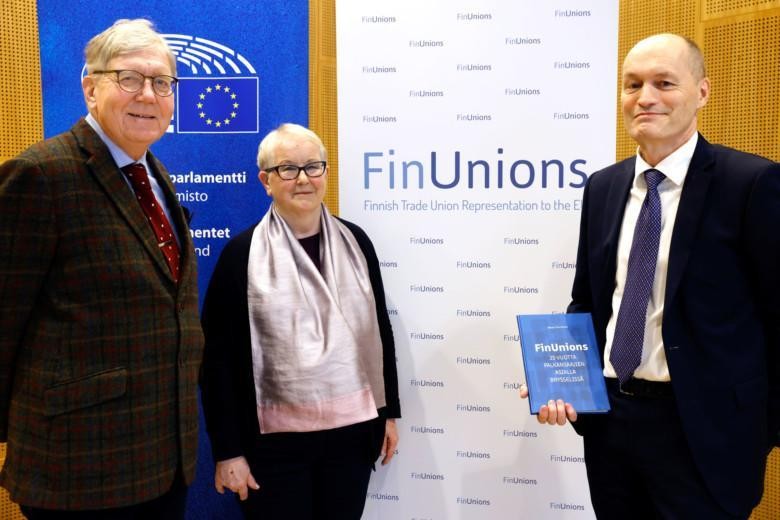 Earlier in December, FinUnions published its 25-year history in Finnish in Helsinki.
Seppo Tamminen, a researcher at Oy Spiritus Historiae Oy, has written a book that records the history of FinUnions in a valuable and intact way. In addition to Tamminen, FinUnions' history working group has included Marjaana Valkonen, the retired Director of International Affairs at SAK, the retired General Counsel of the Unemployment Insurance Fund in Finland (now the Employment Fund), Veijo Åberg, Senior Expert at Spiritus Historiae Oy and the director of FinUnions Katja Lehto-Komulainen.
We also have the pleasure of publishing a summary in English prepared by Kari Tapiola, former Deputy Director-General of the ILO, who as International Affairs Director of SAK participated in the process from 1988 to 1996.
Read our history book in Finnish online or the summary in English here.
In the main photo directors of KEY-, KEY-FINLAND and FinUnions (from left to right): Ari Åberg, Jorma Rusanen, Jorma Skippari, Pekka Ahmavaara, Heikki Pohja, Katja Lehto-Komulainen and Susanna Salovaara.