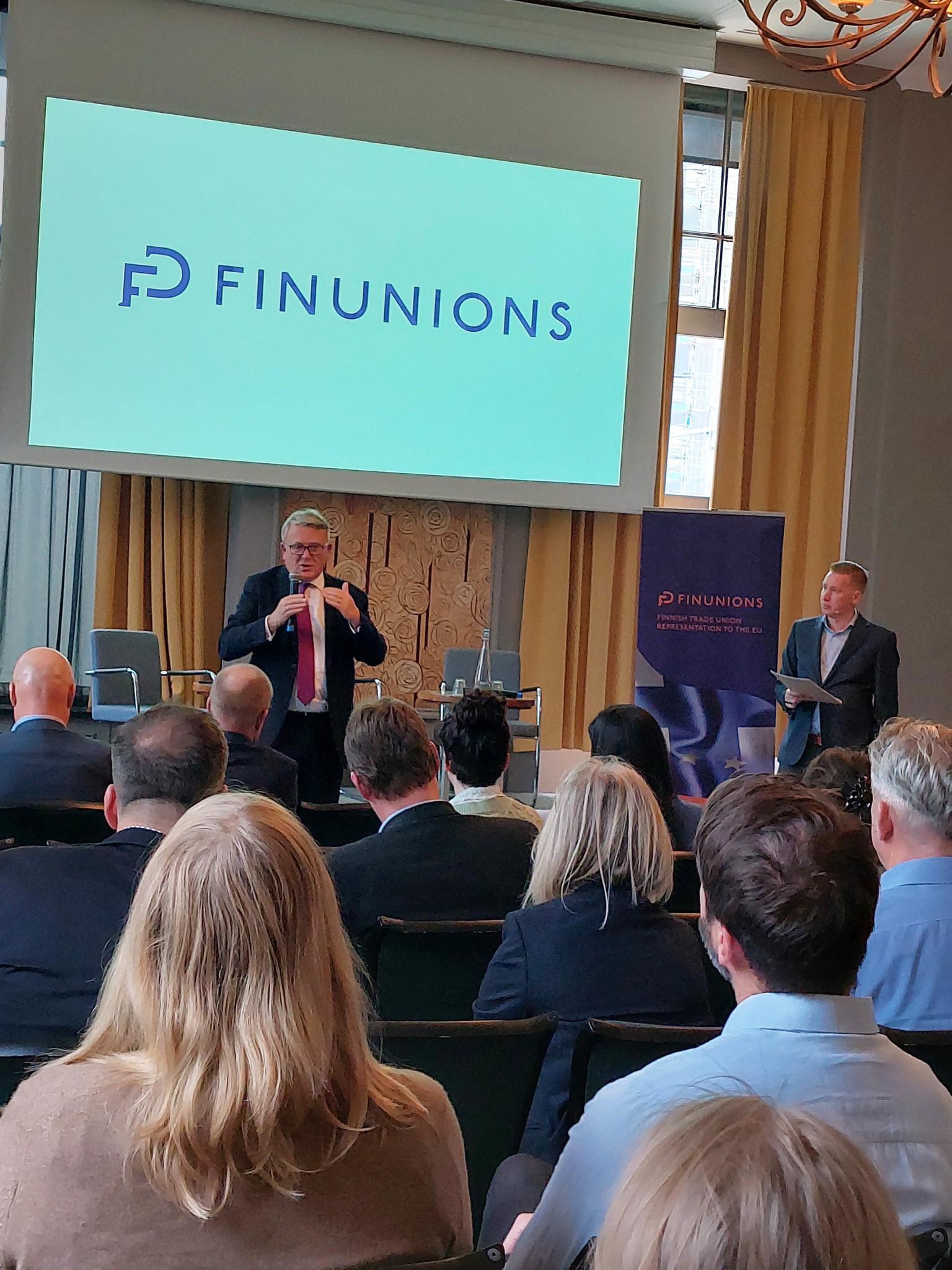 Extraordinary times call for extraordinary emergency measures
News
Winter is coming and this winter will be even more challenging for European households and wage earners. With an inflation of 9.9 percent (in September 2022) and with energy and consumer prices sky rocketing, the cost-of-living crisis is pushing people into extreme hardship. Europe is at very critical stage, and additional actions are called for.
Finnish and other European trade union representatives came together yesterday in Brussels to discuss the cost-of-living crisis touching upon necessary EU-level solutions and sharing national experiences and thoughts, from a wage-earners' perspective.The seminar "Energy and Food Costs Rocketing – Trade Unions' Role to Maintain the Balance in Society" was hosted by FinUnions' Chair Mr Jarkko Eloranta & Vice Chair Mr Antti Palola, from the Finnish trade union confederations SAK and STTK.
Social dialogue and collective bargaining are key elements for a Social Europe  
In the event's opening speech Commissioner Nicolas Schmit identified the increasing challenges surfaced by the energy and cost-of-living-crises for both governments and for unions. The ongoing crisis is affecting more and more people.
"Even workers with fair wages are now under pressure and cannot pay their bills", Schmit said expressing his worry.
He acknowledges that there is a need for strong unions, as they are the ones defending the interest of millions of workers.
"Finland is lucky to have strong unions, but also unions integrated into a system of social dialogue, collective bargaining. Not everywhere in Europe the situation is the same", he mentioned.

"This is a gap in the European Union, which also represents a challenge for the Commission", he added.
This is one of the reasons why the Commission has launched an initiative on promoting social dialogue, out of which the Minimum Wage Directive is the first one, which also is about collective bargaining.
"When there are member states in the union, where collective bargaining is below 50 percent, there is a need to strengthen collective bargaining all over Europe. The culture for social dialogue, which exists in Finland, is lacking or is very weak in many other EU countries. That is why we are proposing a recommendation also on strengthening social dialogue", Schmit pointed out.
He also acknowledges that there are forces in Europe, where democratic institutions such as trade unions, but also employers' unions are being weakened because the political forces do not like social dialogue, nor the way the social partners are dealing fair agreements on the labor market.
"When you start weakening social partnership, when you start attacking trade unions, democracy is under attack", he said.
The Commission respects the national systems of social dialogue, especially when they are well functioning, and also protects national systems.
"There were many worried voices in connection of the Directive on Minimum Wages, a fear that the national systems would be undermined. I repeat once again, that this was not the Commission's intention".
The severe economic situation in Europe is tangible right now. On one side, there are companies with high energy consumption and raw material costs. On the other side there are sectors with very high profits.
The discussion about fair collective agreements and increase of salaries have been raised around Europe.

"That is why it is important to have fair and good collective bargaining, also with companies who should have a fair share of the results they are making", the Commissioner said.
When looking at the results and the competitiveness of economies in Europe, it is in those countries where social dialogue and collective bargaining are strong, the social welfare also remains strong.
"Finland is also an excellent example of how a relatively small economy is extremely innovative, modernizing their sectors and adapting them to the new technology and demands – a lesson for Europe".
According to the Commissioner, member countries need to exchange good practices. This is more necessary than ever, as the EU is an integrated economy.
"We cannot just separate the social from the economic side. In an era of big transformations, we need social dialogue and strong social partners, and we need strong unions", he said.
Another proposition the Commission has made is the one on Platform Work.
"We are living in a new form of economy, with new ways of doing business, responding to new demands. At the same time, this business models cannot go outside the frameworks of the social and labor rights frameworks in the European countries. Platform workers must get the same labor rights and protections as any other workers. I hope that with the support of the unions, we will be able to adopt the directive before the end of the mandate of this commission", Schmit said conclusively.
ETUC's Confederal Secretary Liina Carr pointed out in the seminar that Europe is not dealing with the usual demand side inflation, it is a supply side inflation.
"The inflation is not driven by wages, but by the excessive profits, dividends, that are paid out. Also, by speculations in the financial market. Therefore, we can't use the normal remedies to fix the inflation. Even the European Central Bank's calculations show that the real wage growth is quite the collectively agreed wage increases, the real wage growth is still -5 % this year. There is no possibility for a wage price spiral", Carr said in her comment to the Commissioner's speech.
Extraordinary times call for extraordinary emergency measures
A group of panelists debated on how the crisis is affecting employees in different parts of Europe and what measures would be effective in order to preserve stability in the society. The panel moderator was Rikhard Husu from the Finnish Broadcasting company. In the panel participated Inga Ruginiene, president of the Lithuanian Trade Unions Confederation, Jarkko Eloranta, President of the Central Organisation of Finnish Trade Unions SAK and Sara Matthieu, Member of the European Parliament for the Greens/EFA, Belgium.
The dispersion of inflation is historically high in Europe right now with 25 percent in Estonia compared with 6 percent in France. For the time being Finland is having a lower rate, 8 percent, compared to 22 percent in Lithuania, where prices have increased 30 percent in one year. Despite national differences the panelists were unanimously calling for more European solidarity, European level long-term solutions, and collective bargaining as a way to ensure that workers are paid fair wages in the time of crises.  
What solutions are there on the table?
Continuous crisis preparedness has also shown that the EU must act together and consistently. What is needed now is unprecedented solidarity between member states and coordinated action, not unilateral measures that fuel differences.

Workers are the victims of this crisis, with falling wages and rising prices applying to everyday goods. This is widening inequalities, with low-paid workers and vulnerable people hit hardest. There is also the risk that citizen's feeling of social inequality increases over time, which may lead to an increase in confrontation, the growth of the far-right/populism and, at worst, social unrest.
Wages must grow to meet the increase in the cost of living and ensure workers receive a fair share of profits and productivity gains, while measures to promote collective bargaining are the best way to achieve fair pay and a sustainable economy.
The trade union movement is also calling for a swift transposition of the minimum-wages directive in all member states, particularly through action plans to strengthen collective bargaining.
Further measures to be put to the decision-makers' table
"A fairer way out of this crisis is to hold to account those who are making exceptional profits, even bigger than this time last year", ETUC's Deputy General Secretary Esther Lynch said in her final remarks.
By taking to the lobbying, by taking to the streets and communicating on this subject – holding discussions at home, at work, with everyone – it is possible to affect that type of change which is necessary.
"We also need to radically change the energy markets by putting the spotlight on the types of decisions that are being made there", Lynch said.
"I am full of hope that working together in the trade union family is a win-win", she said referring to the ETUC's six-point plan.
Just like a rubric cube, we know that the actions you take on one side effects the other side. Actions are needed on all six sides to change this cost-of-living crises.
"There needs to be an increase in wages, and we need to make sure that those people, who don't have a job, due to unemployment or illness, that they are protected and that they can afford housing and electricity".
Lynch also mentioned fair taxation and a reform of the energy market among other actions.
ETUC is calling on concrete actions from the Commission and the Council in regards of the energy and cost-of-living crisis.
FinUnions wants to thank all its international affiliates and partners for their participation in the event!